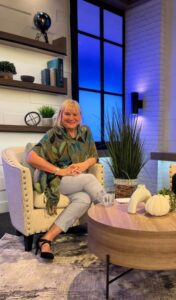 Savvy Seniors, a YourTV Halton Production
Host: Mary Dilly, Owner of Downsizing Solutions
Mary shares her decades of experience supporting seniors and their families in the Halton Region.
A variety of guests include local experts on all things senior related.
Season 2 - filming has begun! Watch this space. Published episodes will soon be here!
Season 1 shows are available here!
Mary shares her thoughts on the important services available to seniors.
Mary introduces Sarah Feere, a realtor with Team Logue, who specializes in seniors real estate sales.
Mary introduces Jeanette Bock, the Owner of Fluid Senior Transitions - assisting seniors to live their best lives.
Pre-planning Your Funeral
Guest: Sarah Sunnucks, Funeral Director
Sarah explains why it's a good idea to preplan your funeral arrangements.
Burial Options
Guest: Sarah Sunnucks, Funeral Director
Sarah breaks down some of the funeral options you may not have been aware of.
Sex With Seniors
Guest: Brianna Urquhart, Sex Therapist
Brianna cautions listeners about the growing number of sexually transmitted diseases with seniors.
Good Enough Sex Model
Guest: Brianna Urquhart, Sex Therapist
Sarah discusses aging and changes to body and sexual relationships in our later years.
Occupational Therapy to Age in Place
Guest: Margo McWhirter, Occupational Therapist
Margot discusses what it means to age in place and shares how her work as an Occupational Therapist can help people successfully age in place.
Food, Recreation Activities and Care Levels are important factors when choosing retirement living. In this 3-segment series, Mary & Sarah discuss different retirement residence options with:
Senior Fraud
Guest: Dave Oswald, Forensic Investigator
Mary, Sarah, and Dave discuss scams on seniors and what you need to know to protect yourself and your loved ones.